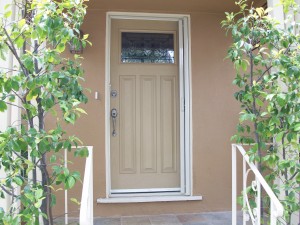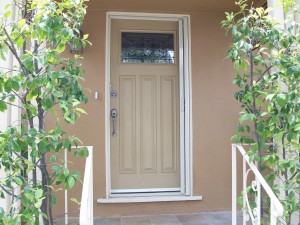 Front Entry Door
 Frequently Asked Questions
1. What is a Retractable Screen Door?
A retractable screen door is a home improvement product that is attached to the exterior frame or the interior frame of a doorway or window. The screening material itself is attached to a roller tube which spins on a vertical axis within the assembly's housing. The screen is attached to a vertical pull bar which rides on two rails (top/bottom) and is used to stretch the screen material across the opening. Once deployed, the pull bar is fixed in place by one or more magnets installed on the side opposite the housing. When not in use, the screen rolls safely and slowly into its housing.
2. What types of openings will a retractable screen door work on?
The applications are endless and can be installed on any in-swing and out-swing doors such as: French doors, Single doors, Dutch doors, Sliders and Windows.
3. What makes the Stowaway Retractable Screen Doors different than the competition?
The difference is the Patented Safe Glide™ Speed Reducer. We all know that other manufactures screens slam back, but the speed mechanism means the door will not snap shut. This technology protects fingers, damage to the internal components and eliminates the unpleasant noise of a slamming retractable screen. Plus the Stowaway screen is the only retractable screen that is built completely in the U.S.A, Better yet, built right in our shop in Anaheim Hills, California.
4. How difficult is it to install a Retractable Screen?
The installation of a retractable screen must be measured and installed by a professional installer. The installation of a single unit typically takes about 60 minutes; two units (french doors) typically take about 90 minutes.
5. What door and/or window sizes will this system fit?
All retractable screen doors are custom built to 1/16 of an inch, for your home and your home only. The screen can be installed on practically any opening, measuring up to 120″ in height and 140" in width.
6. Why use sill adapters?
Over 90% of all installations are customized. The sill adapters provide a seamless blending of the new screen to your existing threshold and frame. In a great number of cases, the sill adapter is a necessary component for proper screen operation and support. The sill adapter will improve the overall appearance of your new retractable screen and it will also prevent future damage to the bottom railing.
7. Are custom powder coated colors available for an additional charge?
Yes, we currently offer over 210 custom powder coated colors, but with any custom color order, the nylon components (end caps, handles, magnets, etc) need to be selected from one of the 9 standard nylon colors.
8. Can the screens be locked?
Yes, optional chrome latches or position holders are available for an additional charge. But, keep in mind that the retractable screens are for ventilation and bug reduction only; they are not meant to keep the bad guys out or to keep ones kids or pets inside.
9. What about pets and/or animals, can they get in or out?
The screen will keep pets/animals in or out to a degree, but the screen is not secured at the top or bottom by design. Therefore it is possible for a pet/animal to push its way underneath. The solution to this issue is to place a u-channel on each side of your door opening, and then we would cut a piece of plexiglass customized to your door opening width/height. Once your screen is in the operating position, you slide the plexiglass into place to block your animals from going out the bottom of the screen.
10. Can I do my own installation?
Yes, but all doors must be measured by us to guaranty a proper fit. Turn-around time is about the same, along with your ordered door you will receive a directionally DVD. But, doing your own installation on the Clear View screen will void the lifetime warranty.
Free Estimates and our professional mobile screen service installations for Screens in the Anaheim area.
Call us for a FREE ESTIMATE! on a new Retractable Screen Door and Retractable window screens today!
                                        ~ All of our products can also be sold uninstalled as well ~
If you're searching for Screen Doors in Anaheim area, or other near by areas, here are some other cities we service.
Mobile Service in the following areas:
Agoura Hills, Bel Air, Beverly Glen, Brentwood, Calabasas, Canoga Park, Chatsworth, Encino, Granada Hills, Hidden Hills, Los Angeles, Malibu, Mission Hills, North Hills, Northridge, Oak Park, Porter Ranch, Reseda, Sherman Oaks, Simi Valley, Studio City, Tarzana, Thousand Oaks, Topanga, Van Nuys, West Hills, Westlake Village, West San Fernando Valley, Winnetka, Woodland Hills.