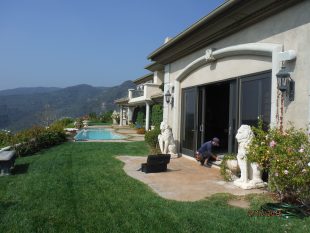 Solar Screens for Retractable Screens Sherman Oaks
How Solar Screens work. As much of 230 BTUs of the sun's hot rays can fall on each square foot of glass. 90% of the sun's heat and glare is reflected, absorbed and dissipated before it strikes the window surface.
Phifer Super Solar Screening Plus is the ultimate in shading protection. Blocks 90% of the sun's heat and offers great outward visibility. Ideal for west facing windows, doors, porches and patio enclosures.
Super Solar is a vinyl-coated fiberglass fabric also improves daytime privacy and provides good ventilation.
It works whether windows are open or closed. It helps to protect and reduce fading of carpets, draperies and funishings, as well as helps save energy and reduce glare. Window Screen Repair with solar screen is very useful for window facing the sun.