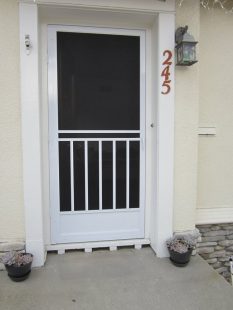 Encino Screen Doors
" I am so very pleased with your company Henry, I recommend Complete Screens very Highly. This is the 3rd sliding screen door I bought at Home Depot, this off-the-rack roll form door keeps falling apart on me. They are very week and flimsy. I am so happy I called you and just had your company Complete Screens install the heavy duty extruded aluminum sliding screen door. It is a really tough door and slides perfectly all the time. Thank you" Louis A, Encino, CA.
Screen Doors & Retractable Screen Doors will fit any door or window.
Our doors can be custom-fit to any single, double entry French Doors, or sliding patio doors.  We also specialize in retractable window screens for a clear view to the outside.
Do you have a window out to your patio that you would like to pass food through?  We can install a retractable pass-through window screen.  Retractable screens are made out of heavy duty extruded aluminum and are powder coated which will give them a better appearance while providing a long-lasting easy to clean surface. Only Silicone lubrication required as screen simply glides within a small out of the way track.  No wheels or rollers to replace or fix.
I am fully stocked so I am able to build your door same day at your home.  Retractable screens are designed for years of trouble-free use.
The basic standard width sizes they come in are:
       Encino Screen Doors
       Encino Retractable Screen Doors
       Encino Window Screens
       Encino Patio Sliding Door
       Encino Wood Doors
       Encino Entry Door
       Encino French Doors
       Encino Swinging Screen Door
       Encino Front Screen Door
       Encino Patio Door
       Encino Sliding Screen Doors