Sherman Oaks home
A resident of  The San Fernando Valley had purchased his new home in a beautiful part of Sherman Oaks, but all the window screens, sliding and swinging screen doors were missing. When I arrived the house looked like this.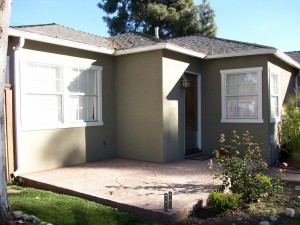 Only a few old screens were still installed and he noticed the old anodized (grey) window screen frames were very thin  and flimsy and the screen mesh on them was the old grey mesh  which is pretty outdated. We do not recommend the grey screen mesh on certain homes and this was one of them.
The owner looked us up on the "Yellow Book "Pages and then saw our web page and checked us out online. He made an appointment with me for a free estimate at a convenient time for him. I arrived at our scheduled time and he started taking me around the house and showing me all the window and door encasement's. I was taking measurements and showing him our catalog and then samples of screen frames, sliding screen doors and swinging screen doors. He decided on the white enamel finish frames for, both window screen and screen doors. He liked the charcoal heavy duty screen mesh which looks great with the white enamel frames.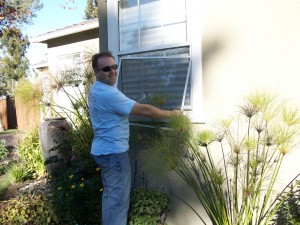 I wrote up an free estimate for him and he was very pleased with the price, We offer different forms of payment  such as credit cards, checks and even payment plans. He was aware of them before he called us. He was happy to be able to pay with a credit card and apply his 10% discount coupon he printed  it from our web site, ecspecially because new homeowners have a very tight budget for home repairs and improvements.
My web page and Yellow book ads inform our clients that I accept  checks , payment plans (weekly, biweekly or monthly payments ) and credit cards. (visa-mastercard-american express-discover)
It was a beautiful sunny day in Sherman Oaks and by the end of the job our customer had his windows open and was  already  enjoying the cool breeze flowing Through his new home without the concern of insects coming in and even better, began saving money on his utilities bill.
                                                                                                                                                                                                                                  Mobile Service for Retractable Screens, Disappearing Screens and Roll away Screens in the following areas:
 Mobile Service in the following areas: Agoura Hills, Bel Air, Beverly Glen, Beverly Hills, Brentwood, Burbank, Calabasas, Camarillo, Canoga Park, Chatsworth, Encino, Glendale, Granada Hills, Hidden Hills, Hollywood, Los Angeles,  Malibu, Mission Hills, Moorpark, Newberry Park, North Hills, North Hollywood, Northridge, Oak Park, Pacific Palisades, Pacoima, Panorama City, Porter Ranch, Reseda, Santa Monica, Sherman Oaks, Simi Valley, Studio City, Sun Valley, Sylmar, Tarzana, Thousand Oaks, Toluca Lake, Topanga, Tujunga, Universal City, Van Nuys, Ventura, West Hills, Westlake Village, West San Fernando Valley, Winnetka, Woodland Hills.