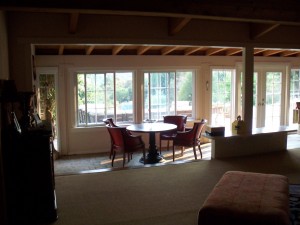 Take a look around you home and count how many doors you have. Then see how many are sliding doors and how many are swinging doors. Only count the ones that are on the outside of the house and allow access in and out of your home. Once you have counted them all, now you can decide whether you want to install Retractable screen door, Swinging screen doors or Sliding screen doors.
If your screens are torn, ripped or old it's time to get your window screens and screen doors repaired, re screened or replaced with new one!
Call us and we will go out to your home for a free estimate. It's easier than you think to have the door screens and screen windows installed in your house.  A customer in Chatsworth just had a sliding screen door installed made of fiberglass screen and extruded aluminum, a heavy duty sliding patio door that is custom made. Made out of quality materials from Active Screen Doors and Superior Products.
All Hinged Screen Doors Are Heavy Duty Extruded Aluminum
Made of Heavy Duty Extruded Aluminum For Strength And Lasting Beauty Highest Quality Powder Coated Finishes… Outlasting Most Liquid Painted Finishes
Custom Design Non-Raffle Anti-Rust Grilles For Protection From Children And Pets (Different Patterns Available)
All Swinging Doors Include Self Closing Heavy Duty Shocks With Adjustable Speeds And Manual Locks
Variety Of Colors
Fit All Screen Mesh
All Work Guaranteed
San Fernando Valley Screen Doors
San Fernando Valley Window Screens
San Fernando Valley Retractable Screen Doors
San Fernando Valley Swinging Screen Doors