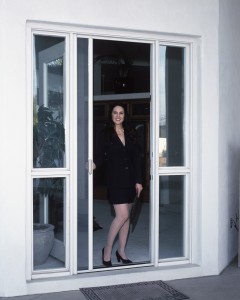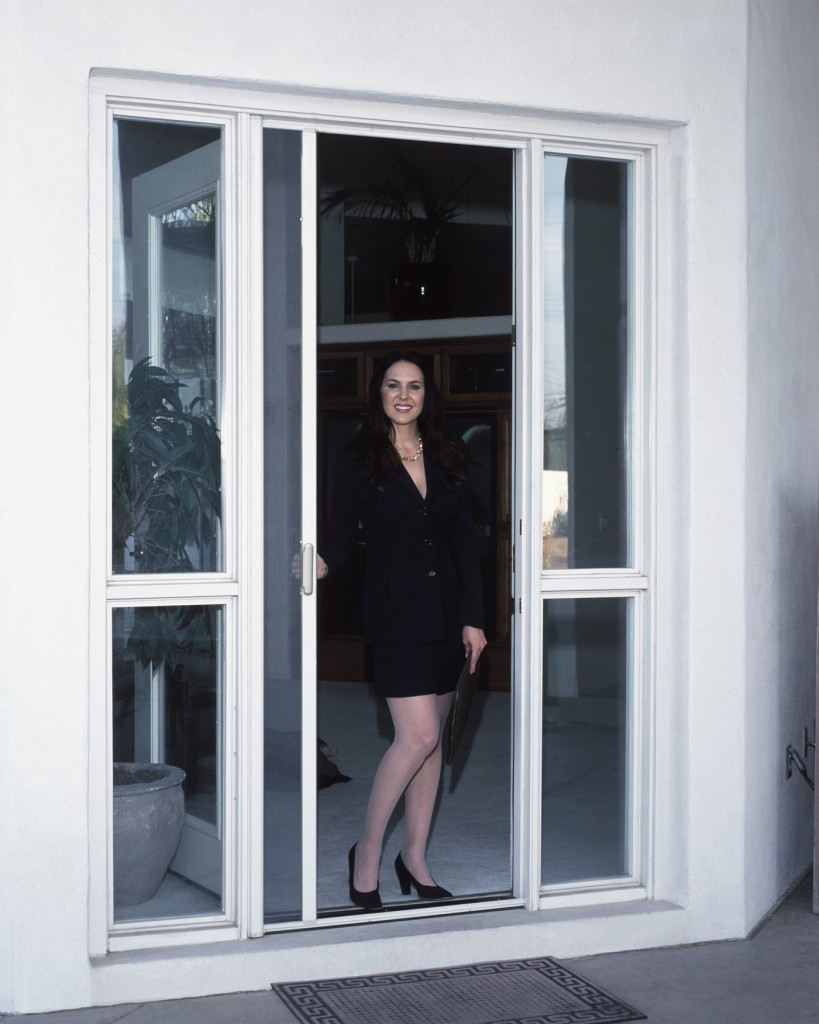 If you are looking for a Mobile Screen Door Service in Newbury Park that comes to your home and gives you a free estimate and shows you samples and brochures of our Retractable Screen Doors with a friendly smile you found it!
1. A certified dealer will measure the exact dimensions of your opening
2. Your retractable screen is produced at our state-of-the-art production facility in Anaheim Hills, Ca U.S.A.
3. A certified installer installs your retractable screen and and makes any adjustments for smooth operation.
You will instantly see the benefits and feel the difference of a solid, quiet and smooth operation.
Newbury Park Retractable Screen Doors
Newbury Park Invisible Screen Doors
Newbury Park Retractable Solar Screens
Newbury Park Screen Doors
Newbury Park Window Screens 
Call us for a FREE ESTIMATE! on new Retractable Screen Doors and Retractable window screens today!
                                                         To see our Gallery of photos Click below
Mobile Service in the following areas

:Agoura Hills, Bel Air, Beverly Glen, Beverly Hills, Brentwood, Burbank, Calabasas, Camarillo, Canoga Park, Chatsworth, Encino, Glendale, Granada Hills, Hidden Hills, Hollywood, Los Angeles,  Malibu, Mission Hills, Moorpark, Newbury Park, North Hills, North Hollywood, Northridge, Oak Park, Pacific Palisades, Pacoima, Panorama City, Porter Ranch, Reseda, Santa Monica, Sherman Oaks, Simi Valley, Studio City, Sun Valley, Sylmar, Tarzana, Thousand Oaks, Toluca Lake, Topanga, Tujunga, Universal City, Van Nuys, Ventura, West Hills, West Hollywood, Westlake Village, West San Fernando Valley, Winnetka, Woodland Hills.
We now serve these areas also:

Briggs Terrace, Canyon country, Chevy Chase, Crescenta Highlands, Flintridge, Honby, Humphreys, La Canada, La Crescenta-Montrose, Lakeview Terrace, Mint Canyon, Newhall, Santa Clarita, Shadow Hills, Stonehurst, Sunland, Tujunga, Valencia, Whiting Woods
Alhambra, Aliso Viejo, Anaheim, Anaheim Hills,Arcadia, Baldwin Park, Bell Flower, Bell Gardens, Buena Park, Carson, Cerritos, Chino, Chino Hills,Claremont, Commerce, Compton, Corona Del Mar, Costa Mesa, Covina, Cudahy, Culver City, Dana Point, Diamond Bar, Downey, Duarte, El Monte, El Segundo, Fullerton, Gardena, Glendora, Garden Grove, Hawaiian Gardens, Hawthorne, Huntington Beach, Industry, Inglewood, Irwindale, Irvine, La Habra Heights, La Palma, Lake Forest, La Mirada, Lakewood, Laguna Beach, Laguna Niguel, La Puente, La Verne, Little Rock, Lomita, Long Beach, Los Angeles, Manhattan Beach, Marina Del Rey, Maywood, Mission Viejo, Monrovia, Montebello, Monterrey Park, Newport Beach, Norwalk, Ontario, Orange County, Palos Verdes, Paramount, Pasadena, Rancho Palos Verdes, Pico Rivera, Playa Del Rey, Pomona, Rancho Cucamonga, Redondo Beach, Riverside, Rolling Hills, Rolling Hills Estate, Rosemead, San Clemente, San Dimas, San Gabriel, San Marino, San Pedro, Santa Ana, Santa Fe Springs, Seal Beach, South El Monte, South Gate, South Pasadena, Temple City, Torrance, Tustin, Venice Beach, Verne, Vincent, Walnut Grove, Westminster, Whittier, Yorba Linda
Alhambra, Aliso Viejo, Anaheim, Anaheim Hills,Arcadia, Baldwin Park, Bell Flower, Bell Gardens, Buena Park, Carson, Cerritos, Chino, Chino Hills,Claremont, Commerce, Compton, Corona Del Mar, Costa Mesa, Covina, Cudahy, Culver City, Dana Point, Diamond Bar, Downey, Duarte, El Monte, El Segundo, Fullerton, Gardena, Glendora, Garden Grove, Hawaiian Gardens, Hawthorne, Huntington Beach, Industry, Inglewood, Irwindale, Irvine, La Habra Heights, La Palma, Lake Forest, La Mirada, Lakewood, Laguna Beach, Laguna Niguel, La Puente, La Verne, Little Rock, Lomita, Long Beach, Los Angeles, Manhattan Beach, Marina Del Rey, Maywood, Mission Viejo, Monrovia, Montebello, Monterrey Park, Newport Beach, Norwalk, Ontario, Palos Verdes, Paramount, Pasadena, Rancho Palos Verdes, Pico Rivera, Playa Del Rey, Pomona, Rancho Cucamonga, Redondo Beach, Riverside, Rolling Hills, Rolling Hills Estate, Rosemead, San Clemente, San Dimas, San Gabriel, San Marino, San Pedro, Santa Ana, Santa Fe Springs, Seal Beach, South El Monte, South Gate, South Pasadena, Temple City, Torrance, Tustin, Venice Beach, Verne, Vincent, Walnut Grove, Westminster, Whittier, Yorba Linda