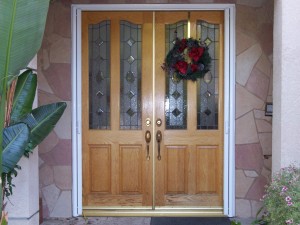 We recommend "retractable screen doors" for the front french doors of any home. They have a few highly desirable features. One of them is the attractive feature of "disappearing" when your front french doors are closed. Most people like their front doors and do not want to cover them with the traditional and conventional screen doors. Another feature that is popular is the easy close and easy snap together heavy duty magnets. A highly trafficked door entry discourages customers from installing conventional doors. The standard swinging screen doors can be gaudy and inconvinient.
The Retractable Screen Doors retractable screen doors also come in 12 different colors and 12 different color bottom sills which will allow the customer order their sill to match their existing sills making them virtually disappear.
Our latest installation of retractable screen doors where installed in Malibu, Beverly Hills, Brentwood, Pacific Palisades, Santa Monica, Sherman Oaks, Northridge.