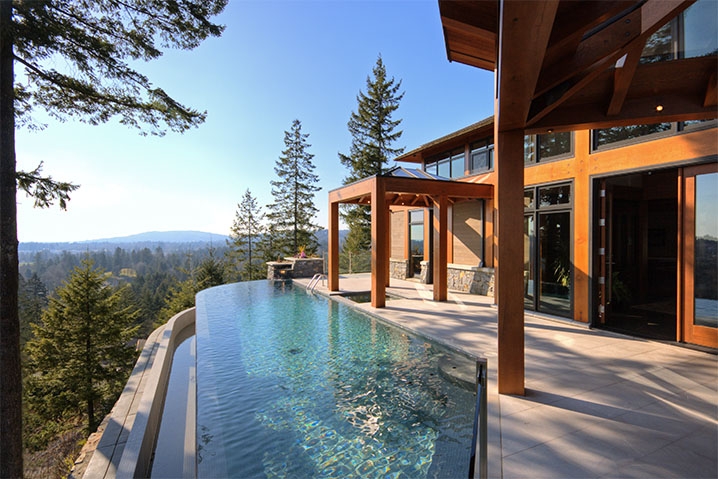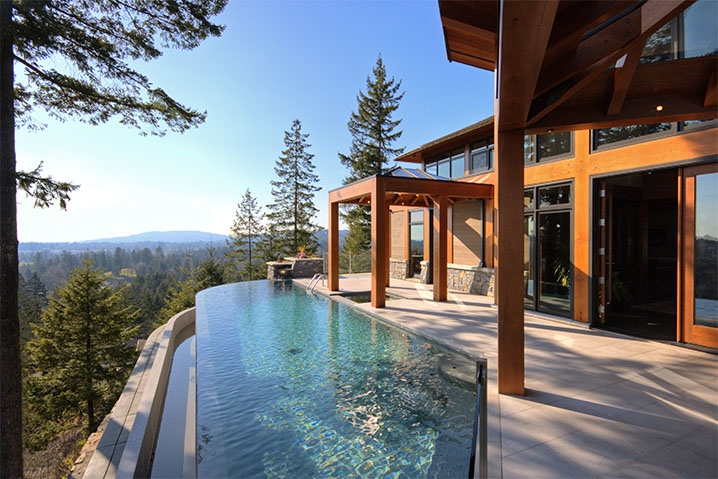 Clear View Retractable Screens
The Clear View Retractable Screen can be applied to French Doors, Single Doors, Dutch Doors, Sliding Doors or Windows. The Clear View Screen is the highest quality screen you will find in the market today. It has the durability quality that you will need for the amount of use the screen doors require. It's the only retractable screen made 100% in the U.S.A ( corporate office in Anaheim Hills, CA). This is the only (YES THE ONLY) retractable screen with the patented Safe-Close speed reducer mechanism that allows a safe, slow and gentle retraction of the screen back into the housing unit. Great for winter because the screen hybernates in the housing and is protected from rain and wind; therefore the mesh last longer. The Safe-Close mechanism also eliminates the loud slamming noise other retractable screens typically make. Along with being the only retractable screen that has an enclosed extruded aluminum back on the housing, the Clear View screen also integrates an extruded aluminum sill system into your threshold to give the bottom rail the support that it needs to take the daily traffic abuse. You can choose different color bottom sill and rail to match you existing sill.
By design, the screen mesh on retractable screens is not attached on the top or the bottom (this allows the screen to roll into the housing). However, the screen is still bug- proof because the screen mesh goes up into the top railing and down into the bottom railing. This feature also allows forgiveness should one walk slightly into the screen; the screen would go out with the movement of the body, then you would simply retract the screen into its housing, open it back up and it would be as good as new. We supply colorful, fun stickers for the mesh which will allow your family, friends and guests to detect the screen before they run into it until they get used to it.
To ensure an exact fit, Complete Screens will come out to your home to take measurements and show you our product. We always bring a hand held demo unit, 12 color chip samples, and samples of the screen mesh color choices. Sill samples are also brought to show you how we would incorporate one of our sills off of your existing threshold. We do this so that the bottom railing that the screen glides on always has a 90 degree angle to rest up against. This ensures that you can step on the bottom sill/rail on a day to day basis and never worry about bending the rail. Clearview retractable screens come with a warranty that covers the entire product except for the screen mesh, but the screen can be replaced by our team should it get torn. (Typical wear and tear expected). The Clear View Retractable Screens are manufactured in their local factory (Anaheim Hills, CA), not in your driveway. They are shipped to us packaged with great care and protection, we then go to the clients house and professionally install them. They are quality tested in a controlled environment and inspected to ensure enjoyment for life.
The way we price our retractable screens is very simple. It's either a Single or Double housing application. A Single Door, Dutch Door, Sliding Door or Window would be a considered a Single Housing Application, while a Double Door (French Door) would be a Double Housing Application. It doesn't matter how tall or wide, what color standard fiberglass screen, or which of our 12 standard colors you pick; our price will not change on you. Our price includes the measure, delivery, installation and a smile. Optional features such as upgraded screen mesh with a pet mesh (black or white) or solar mesh (black), cleaning kits, pet guards (plexi glass), locks, latches and sirens are offered at the measure as well.
Please call us toll free at (818) 470-1444 with any further questions or to set up your measure. We can be out to measure in 1-3 days. We look forward to serving the role as your home improvement specialist.
~ All of our products can also be sold uninstalled as well ~
Mobile Service in the following areas: Agoura Hills, Bel Air, Beverly Glen, Beverly Hills, Brentwood, Burbank, Calabasas, Camarillo, Canoga Park, Chatsworth, Encino, Glendale, Granada Hills, Hidden Hills, Hollywood, Los Angeles,  Malibu, Mission Hills, Moorpark, Newberry Park, North Hills, North Hollywood, Northridge, Oak Park, Pacific Palisades, Pacoima, Panorama City, Porter Ranch, Reseda, Santa Monica, Sherman Oaks, Simi Valley, Studio City, Sun Valley, Sylmar, Tarzana, Thousand Oaks, Toluca Lake, Topanga, Tujunga, Universal City, Van Nuys, Ventura, West Hills, Westlake Village, West San Fernando Valley, Winnetka, Woodland Hills.
If you're searching for Screen Doors in Orange County area, or other near by areas, here are some other cities we service.
Alhambra, Aliso Viejo, Anaheim, Anaheim Hills,Baldwin Park, Bell Flower, Bell Gardens, Carson, Cerritos, Chino, Chino Hills,Claremont, Commerce, Compton, Corona, Covina, Cudahy, Culver City, Dana Point, Diamond Bar, Downey, Duarte, El Monte, El Segundo, Fullerton, Gardena, Glendora, Garden Grove, Hawaiian Gardens, Hawthorne, Huntington Beach, Industry, Inglewood, Irwindale, Irvine, La Habra Heights, La Palma, Lake Forest, La Mirada, Lakewood, Laguna Beach, Laguna Niguel, La Puente, La Verne, Little Rock, Lomita, Long Beach, Los Angeles, Manhattan Beach, Marina Del Rey, Maywood, Mission Viejo, Monrovia, Montebello,   Monterrey Park, Newport Beach, Norwalk, Ontario, Palos Verdes, Paramount, Pasadena, Rancho Palos Verdes, Pico Rivera, Playa Del Rey, Pomona, Rancho Cucamonga, Redondo Beach, Riverside, Rolling Hills, Rolling Hills Estate, Rosemead, San Clemente, San Dimas, San Gabriel, San Marino, San Pedro, Santa Ana, Santa Fe Springs, Seal Beach, South El Monte, South Gate, South Pasadena, Temple City, Torrance, Tustin, Verne, Vincent, Walnut Grove, Westminster, Whittier, Yorba Linda